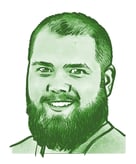 Jaxn Kobza
Systems Engineer
My name is Jaxn Kobza. I was born outside of Kansas City where I spent much of my childhood before moving to Thermopolis, Wyoming, and later to Ranchester, Wyoming where I now reside. I am currently in the process of wrapping up a degree in network administration through Sheridan College. I am also helping local Pine Cove clients with technology related improvements and maintenance. I also support Pine Cove projects.
What do you love about
Pine
Cove
Consulting?
What I love most about Pine Cove Consulting is the diversity of the job, every day is a new challenge waiting to be tackled. I also get to work alongside, and more importantly learn from, many great individuals.
What is a typical day at
Pine
Cove
like for you?
A typical Day at Pine Cove for me involves assisting Pine Cove clients with their many technological needs.
What do you like to do in your spare time?
In my free time, I enjoy fishing the numerous rivers and streams around Wyoming, as well as traveling the country.