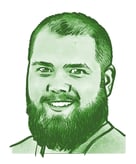 Jaxn Kobza
Systems Engineer
My name is Jaxn Kobza. I was born outside of Kansas City where I spent much of my childhood before moving to Thermopolis, Wyoming, and later to Ranchester, Wyoming where I now reside. I am currently in the process of wrapping up a degree in network administration through Sheridan College. I am also helping Sheridan County School District #1 with all technology related improvements and maintenance.
What do you love about
Pine
Cove
Consulting?
What I love most about Pine Cove Consulting is the diversity of the job, every day is a new challenge waiting to be tackled. I also get to work alongside, and more importantly learn from, many great individuals.
What is a typical day at
Pine
Cove
like for you?
A typical Day at Pine Cove for me involves running the help desk for Sheridan County School District #1, as well as assisting other Pine Cove clients with their many technological needs
What do you like to do in your spare time?
In my free time, I enjoy fishing the numerous rivers and streams around Wyoming, as well as traveling the country.