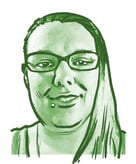 Alex Watts
Service Desk Technician
My name is Alex Watts and I was born and raised in Wyoming. I attended Central Wyoming College and attained my AAS in Computer Technology. I enjoy this field of work because it keeps you on your toes. Technology is always changing.
What do you love about
Pine
Cove
Consulting?
What I love about Pine Cove Consulting is the welcoming environment. My co-workers are always willing to help. I also enjoy the variety of work that I do. I never know what's in store for the day.
What is a typical day at
Pine
Cove
like for you?
For me there is no typical day. I could be helping a customer with their phone system one day and installing a server the next. That is the best part of Pine Cove Consulting.
What do you like to do in your spare time?
In my spare time I like to tinker with computers, play video games and learn as much as I can.