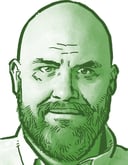 David Huebner
Project Manager
My name is David Huebner. I joined the Pine Cove team in 2012. I was born and raised in the Midwest and moved to Montana to work with Pine Cove. I have been in the IT industry for over 20 years.
What do you love about Pine Cove Consulting?
What I love about Pine Cove is the sense of team work. Everyone here is really willing to step up and help with whatever is needed. The ownership really does treat everyone like family. The main reason that I choose to come work with Pine Cove is the relationships that they try to create with customers.
What is a typical day like at Pine Cove Consulting for you?
A typical day for me is quite varied. My position requires that I work with both our customers and our internal team. Scheduling projects, creating project documentation, meetings, etc... all in a normal working day. I also assist with our service delivery team when I can.
What do you like to do in your spare time?
In my spare time, I try to spend time with my family. I have been married for more than 25 years. I have a couple of boys, one in high school and one in college. I am also a AFOL (Adult Fan of Lego), and have a large collection and displays.