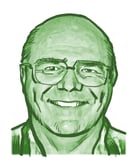 Joe Webb
Systems Engineer
I was raised in Green River, Wyoming and after 16 years in law enforcement (7 with the Wyoming Highway Patrol and 9 as an Investigator and then Chief of Police in Lyman, WY) I changed careers into the IT field. I am in my 20th year working in technology, nine at Uinta County School Dist 6 in Lyman, WY and 10 at Uinta County School Dist 4 in Mountain View, WY. I began working for Pine Cove Consulting in July of 2019 with my primary responsibility being assisting local clients and supporting Pine Cove projects. My wife and I have 5 children and almost 9 grandchildren.
What do you love about Pine Cove Consulting?
I love the fact that there is a team environment with a broad range of experience to refer to and obtain support from. I also love the methodical planning that is a part of Pine Cove's business and growth plan. I feel Pine Cove Consulting is on the right road to providing IT support in a field that becomes more and more specialized every year.
What do you like to do in your spare time?
Because of our growing family, we spend a lot of time chasing our kids and grandkids. On a personal level I enjoy tinkering with fixing computers as well as following various space programs as well as building and shooting off model rockets. I also enjoy traveling and backpacking.