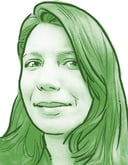 Kate Swistowicz
Service Delivery Manager
My name is Katie Swistowicz. I'm a Wyoming Native from Fremont County. I went to "geek school" in the early 2000's and started working in ed tech for a local school district shortly thereafter. I worked in school districts until joining Pine Cove in 2018. I enjoy helping users integrate technology into their daily lives. I live in Lander, WY with my two teenagers.
What do you love about Pine Cove Consulting?
I like the team of people I get to work with. We all know each other's strengths and weaknesses and utilize each to help out wherever needed. Pine Cove has an amazing team that I'm happy to be a part of.
What do you like to do in your spare time?
I spend time on my hobby farm that consists of goats, chickens, turkeys, lambs, and whatever other animal my kids drag home. I'm an excellent cook and enjoy quilting and crochet in the dark cold days of winter. I am also the taxi-driver to my two teenagers who have multiple activities including swimming, 4H and FFA (to name just a few).